Posted by SeanGately in ABB, Robotics, RockwellAllenBradley, Services, Vendor | Comments Off on Robotic tending of a forming press, cooling press and the palletizer
Robotic tending of a forming press, cooling press and the palletizer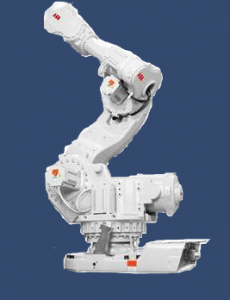 Application: Our customer makes presses; for this project the press they designed was for large plastic mats. They needed a robot to tend the forming press and the cooling press and the palletizer.
Solution: Global Controls designed a custom gripper that could hold all the mat styles and temperatures, and could also reach far enough that the robot arms would not be endangered by the press at any time. We programmed the robot to handshake with our customer's PLC and accept commands to pick from the forming press, pick and place into the cooling press, mark the part with a serial number, and place the part on a pallet. We had to use a special robot feature to pick from the press. After a part was formed, ejector pins pushed the part slightly up, but sometimes not evenly. We used a feature in the robot controller to allow the ejecting mat to push against the robot so that the robot moved up with the mat without causing a fault.
What Products were used: The robot was an ABB IRB-7600 with a 150kg payload and a 3.5 meter reach. We interfaced the robot controller with the customer's Allen Bradley PLC over Ethernet/IP.